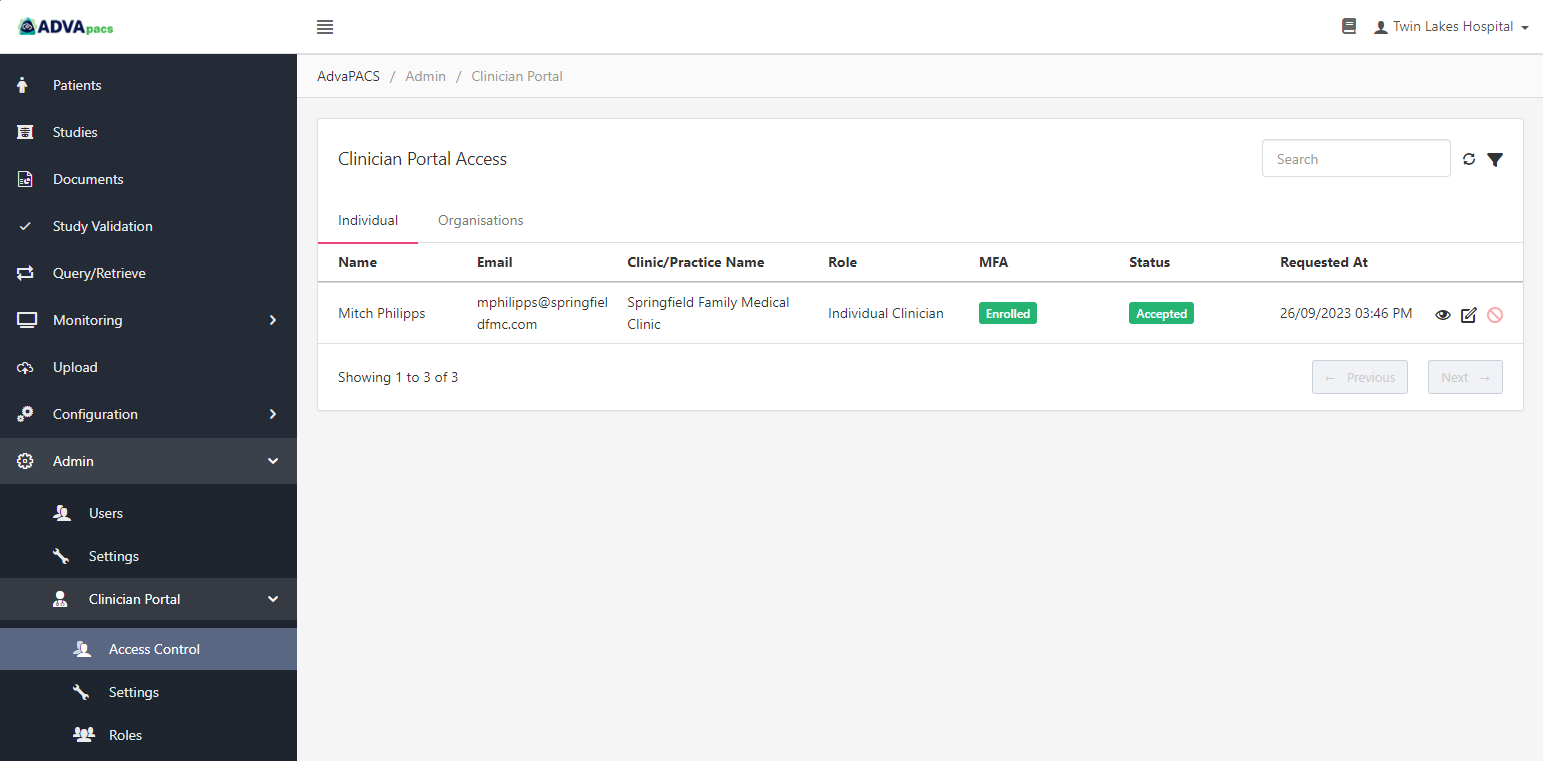 This documentation discusses the Clinician Portal. It goes over how you can manage study access requests from AdvaPACS Clinician Portal users.
The documentation for the AdvaPACS Clinician Portal application itself, on the other hand, can be found at docs.clinician.advapacs.com, where it discusses its interface and functionality.
info
The Clinician Portal and its features are only accessible if the role assigned to you have permission to use it. To follow along this documentation and test its features you need the following role permissions enabled in your account:
Clinician Portal

Explicit Access Grant
Manage Clinician Portal

Studies
The Clinician Portal allows you to provide Clinician Portal users controlled access to your patients' imaging and reports.
It lets you share studies with clinicians while maintaining control over your data. You can manage who can access your data, which studies to share, and what they can do with the studies they have access to.
Enabling the Clinician Portal​
Before you can start accepting requests and share studies to Clinician Portal users, the Clinician Portal needs to be enabled first. Follow the steps below to enable it.
caution
Once enabled, the Clinician Portal cannot be disabled.
Steps​
Navigate to the Clinician Portal.

Toggle the switch to Enabled.

Enter your Password used to login to your account to confirm.

Upload a photo for your institution, enter a Display Name, and a brief Description.

The uploaded photo, Display Name, and Description, is how your account is displayed in the PACS Directory in the Clinician Portal (see image below). The PACS Directory is where users can request access to your data.

Click Save.
Once successfully enabled, you will be redirected to the Settings page where you can further edit your account.
In the next article, we discuss the Access Control screen where you mainly manage users who request access to your studies.